MAAP warns Africa 'flying blind' from stark findings of incomplete AMR data
---
A new report is calling for a drastic increase in AMR data across the continent.
It is estimated that Africa bears the heaviest weight of antimicrobial resistance (AMR) globally – and yet, patchy surveillance on the continent fails to show the scale of the problem.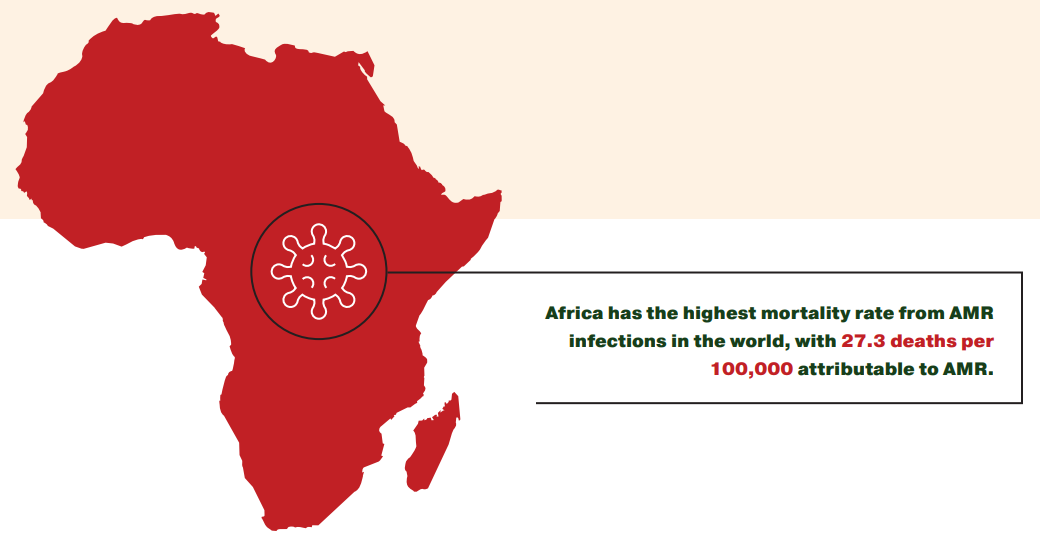 New research into "a critical and growing menace to human and animal health" from the Mapping Antimicrobial Resistance (AMR) and Antimicrobial Use (AMU) Partnership (MAAP) delves into the hidden threat of drug-resistant pathogens in Africa.
The data reveals that only five out of the 15 global antibiotic-resistant priority pathogens, selected by the World Health Organisation from 14 sub-Saharan countries, are being consistently tested. All five demonstrate high resistance, indicating an underestimated level of AMR that is directly impacting patient treatment and agriculture.
The key findings have been illustrated on an infographic, which was released alongside the new report.
Led by Fleming Fund grantees African Society for Laboratory Medicine (ASLM), the MAAP report is the first of its kind, "signifying stark insights on the under-reported depth of the AMR crisis across Africa and lays out urgent policy recommendations to address the emergency". With the warning that health experts on the ground in Africa are "flying blind" with inadequate surveillance and laboratory testing processes.
The GRAM report estimated that in 2019, over 27 deaths per 100,000 were directly attributable to AMR in Africa, and over 114 deaths per 100,000 were associated with AMR.
Although the Africa Centres Disease Control and Prevention (Africa CDC) identified AMR as an urgent public health threat for the African Union Member States in 2017, African surveillance systems remain limited, and so little is known about the scale of the problem. This has restricted national governments' ability to instigate policies that effectively tackle the ever-growing AMR rates.

Recognising this limitation, the MAAP initiative was developed by ASLM and partner Africa Centres Disease Control and Prevention (Africa CDC) in 2019 through the support of the Fleming Fund and its Management Agent, Mott MacDonald. It aims to build capacity in 14 African countries to develop strong AMR surveillance systems.
The first phase involved systematically collecting, processing, and evaluating large quantities of AMR, also including Antimicrobial Consumption and (AMC) data in Africa. In partnership with Africa CDC, they have created the largest database of AMR/AMC in Africa.
Radical rise
Based on the MAAP report findings, the consortium calls on governments for a radical rise in the quality and quantity of AMR and AMC data being collected across the continent, along with revised AMR control strategies and research priorities.
The research reviewed 819,584 AMR records spanning from 2016 to 2019, from 205 laboratories across 14 countries, as well as from 327 hospital and community pharmacies and 16 national-level AMC datasets to understand more about AMR on the continent.
They found that most laboratories across Africa were not equipped for AMR testing – out of the 50,000 medical facilities forming the laboratory networks of the 14 participating African countries, 1% conduct bacteriology testing and AMR analysis.
The research also found that four drugs comprised more than two-thirds (67%) of all the antibiotics used in healthcare settings. There was limited access to other antibiotics, including more effective medicines to treat highly resistant infections (such as severe pneumonia, sepsis, and abdominal infections).
Driving AMR
The clinical and treatment data recorded is currently not being linked to laboratory results, making it hard to understand what's driving AMR. Out of almost 187,000 samples tested for AMR, around 88% had no information on patients' clinical profiles, comorbidities (multiple diseases), or antimicrobial usage.
Dr Yewande Alimi, Africa CDC AMR Programme Coordinator, said:
"The disconnect between patient data and antimicrobial resistance results, coupled with the extreme AMR burden, makes it incredibly difficult to provide accurate guidelines for patient care and wider public health policies. Hence, collecting and connecting laboratory, pharmacy, and clinical data is essential to provide a baseline and a reference for public health actions."
Mr Nqobile Ndlovu, CEO of ASLM, said:
"Across Africa, even where data on AMR is collected, it is not always accessible, often recorded by hand and rarely consolidated or shared with policymakers. As a result, health experts are flying blind and cannot develop and deploy policies that would limit or curtail antimicrobial resistance."
Crisis reality
The MAAP findings expose the reality of the AMR crisis in Africa. The limited number and lack of resources within microbiology laboratories, and the absence of collaboration between sections of the healthcare system produced key recommendations to policymakers:
Increase the volume, quality, relevance, and breadth of laboratory data for AMR.
Expand and institutionalise AMR and AMC data collection and analysis for public health action.
Adapt national AMR control strategies based on the evidence gathered. This includes revising and costing National AMR Action plans and updating Essential Medicine Lists and standard treatment guidelines.
Update national treatment guidelines, increase access to effective antibiotics and conduct trainings and educational campaigns for healthcare practitioners to support improved antibiotic stewardship.
Define continental AMR research priorities.
Dr Pascale Ondoa, Director of Science and New Initiatives of the African Society for ASLM, said:
"Africa is struggling to fight drug-resistant pathogens, just like the rest of the world, but our struggle is compounded by the fact that we don't have an accurate picture of how AMR is impacting our citizens and health systems. This study shines much-needed light on the crisis within the crisis."
MAAP are currently working closely with governments to ensure that the data and the recommendations are in the hands of the decision-makers. As a summary of the first phase of the initiative, they produced a policy brief that highlights the gaps and opportunities of the national AMR laboratory network. The document also puts forward recommendations for critical interventions to tackle AMR.
---
Attributable death means that people died from a drug-resistant infection, and deaths associated with AMR include people who had a drug-resistant infection when they died (but this may or may not have been the cause of death).
More Like This
New country reports provide detailed accounts of drug resistance surveillance across the African continent to reduce the burden of AMR.
Since 2019, Fleming Fund grantee, International Vaccine Institute (IVI), has led the CAPTURA consortium to expand the volume of historical data for antimicrobial resistance (AMR), consumption (AMC), and use (AMU) across 12 countries in South and Southeast Asia.