Country Grants
---
---
The Country Grants constitute the largest funding envelope across the programme and are focused on building laboratory capacity and establishing surveillance systems within the 24 priority countries.
Funding Priorities
Typical first round country grants are allocated for a period of 12-24 months and funding envelopes differ per country based upon the needs and assessed priorities. In some countries, two rounds of grants will be given. Each RFP differs based on country needs and priorities, as identified in the National Action Plan for AMR but there are five core funding areas:
Laboratory Infrastructure Enhancement: building renovation, microbiology equipment purchase, biosafety and security equipment, reagents, durables and consumables and transport and logistics for goods and specimens.
Human Resource Strengthening: training in AMR laboratory techniques, biomedical data management, bio data safety and biosecurity for fellows and country grant beneficiaries.
Surveillance System Strengthening: support for AMRCCs, cross-sectoral meetings, strategy reviews, quality assurance control and data analysis and storage.
Building Foundations for Surveillance Data Use: support for awareness raising, publications, evidence-based strategy, data sharing platforms, etc.
Rational use of Antimicrobial Medicines: Development of AMU or AMC surveillance strategies and stewardship programmes.
A typical country grant will seek to support 4-10 human health surveillance sites (1 National Reference Laboratory and clinical laboratories) and 1-3 animal health laboratories (1 National Reference Laboratory and 1-2 regional sites).
In animal health, grants often start in poultry, with additional objectives of surveillance of antimicrobial use and antimicrobial consumption. In human health, clinical microbiology laboratory capacity for blood cultures is developed at key sentinel sites, with a focus on WHO GLASS priority pathogens, taking a passive surveillance approach.
Grant Making Process
The Management Agent, Mott MacDonald undertakes the following grant making process: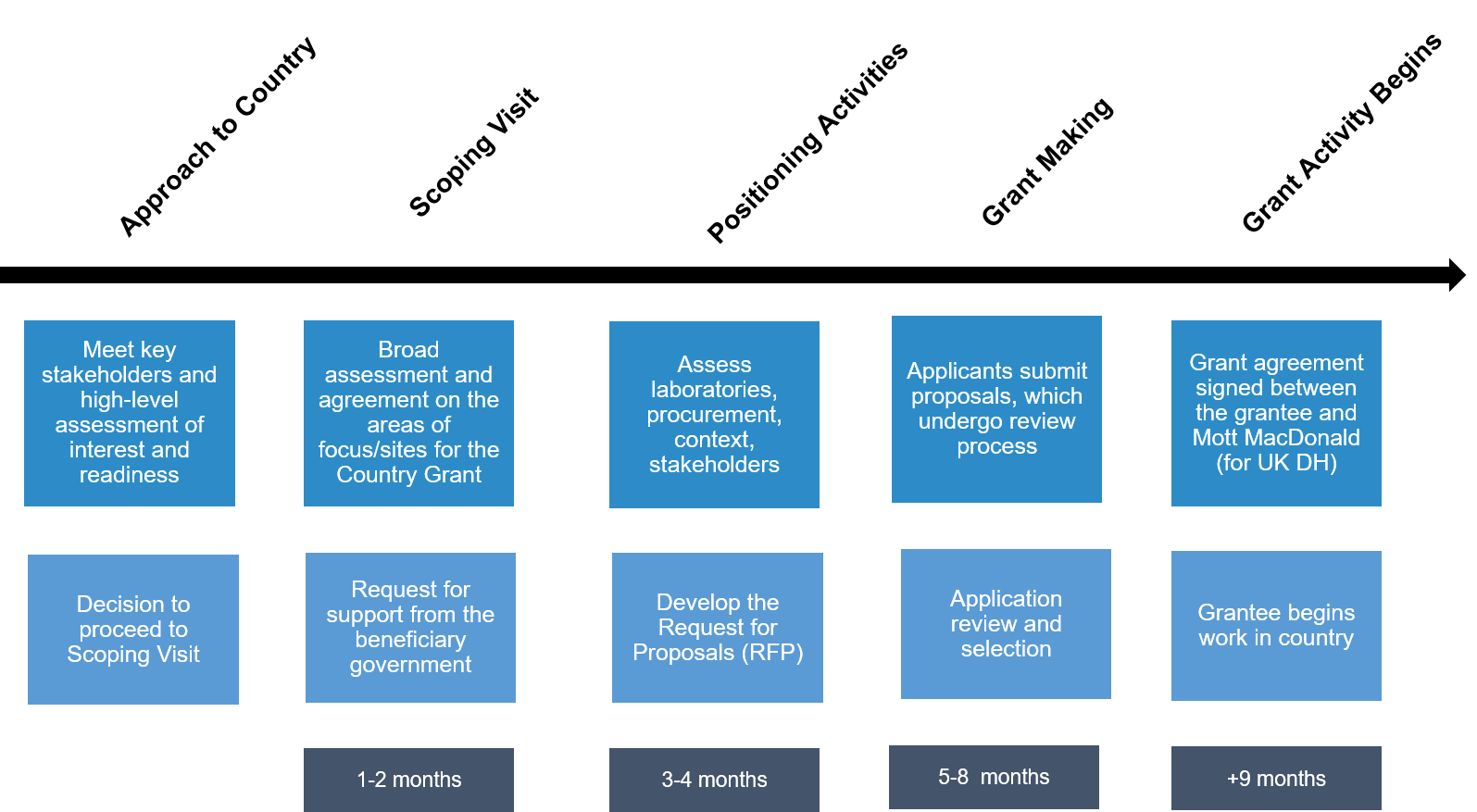 Expected Impact
By 2022, the Fleming Fund will have helped 24 low- and middle-income countries to build sustainable national surveillance systems to tackle AMR. The increase in data, shared nationally and globally, will form the basis of changes in policy and practice leading to more optimal use of antimicrobial medicines.
Latest Activity from Country Grants
Fleming Fund grantee, Menzies School of Health Research boosts healthcare in Timor-Leste by successfully implementing microbiology…
The Fleming Fund Country Grant in Papua New Guinea (PNG), led by Burnet Institute in Australia was the focus of a recent visit to Port…
In partnership with the Fleming Fund, the Royal Government of Bhutan's Ministry of Health (MoH) has renovated three antimicrobi…